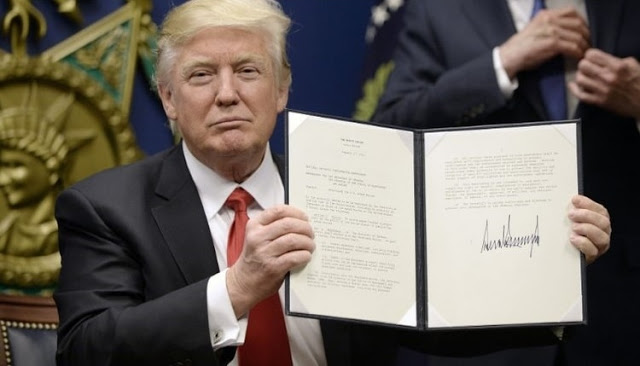 President Trump's most far reaching action since taking office plunged America's immigration system into chaos on Saturday, not only for refugees but for legal U.S. residents who were turned away at airports and feared being stranded outside the country.

Immigration lawyers and advocates worked through the night trying to help stranded travelers find a way back home.
Lawyers in New York sued to block the order, saying many people have already been unlawfully detained, including an Iraqi who worked for the U.S. Army in Iraq.
Confusion abounded at airports as immigration and customs officials struggled to interpret the new rules, with some legal residents who were in the air when the order was issued detained at airports upon arrival.
"Imagine being put back on a 12-hour flight and the trauma and craziness of this whole thing," said Mana Yegani, an immigration lawyer in Houston. "These are people that are coming in legally. They have jobs here and they have vehicles here."


***
The new Republican president on Friday put a four-month hold on allowing refugees into the United States and temporarily barred travelers from Syria and six other Muslim-majority countries. He said the moves would protect Americans from terrorism, in a swift and stern delivery on a campaign promise.
The ban affects travelers with passports from Iran, Iraq, Libya, Somalia, Sudan, Syria and Yemen and extends to green card holders who are legal permanent residents of the United States.
Arab travelers in the Middle East and North Africa said the order was humiliating and discriminatory. It drew widespread criticism from U.S. Western allies including France and Germany, Arab-American groups and human rights organizations.
Iran condemned the order as an "open affront against the Muslim world and the Iranian nation" and vowed to retaliate. Of the seven countries targeted, Iran sends the most visitors to the United States each year – around 35,000 in 2015, according to the Department of Homeland Security.
The ban extends to green card holders who are authorized to live and work in the United States, Homeland Security spokeswoman Gillian Christensen said.
It was unclear how many legal permanent residents would be affected. A senior U.S. administration official said on Saturday that green card holders from the seven affected countries have to be cleared into the United States on a case-by-case basis.
LEGAL RESIDENTS STUNNED
Legal residents of the United States were plunged into despair at the prospect of being unable to return to the United States or being separated from family members trapped abroad.
"I never thought something like this would happen in America," said Mohammad Hossein Ziya, 33, who came to the United States in 2011 after being forced to leave Iran for his political activities.
Ziya, who lives in Virginia, has a green card and planned to travel to Dubai next week to see his elderly father.
"I can't go back to Iran, and it's possible I won't be able to return here, a place that is like my second country," he said.
Saleh Taghvaeian, 36, teaches agricultural water management at Oklahoma State University in Stillwater, said he feared his wife would not be able to return from Iran after a visit.
In Cairo, five Iraqi passengers and one Yemeni were barred from boarding an EgyptAir flight to New York on Saturday, sources at Cairo airport said.
Dutch airline KLM said on Saturday it had refused carriage to the United States to seven passengers from predominately Muslim countries.

There are reports that Iran is already considering taking 'reciprocal measures' after Trump's immigration order.